ISRAEL, "I AM THE LAST TRANS BENDER"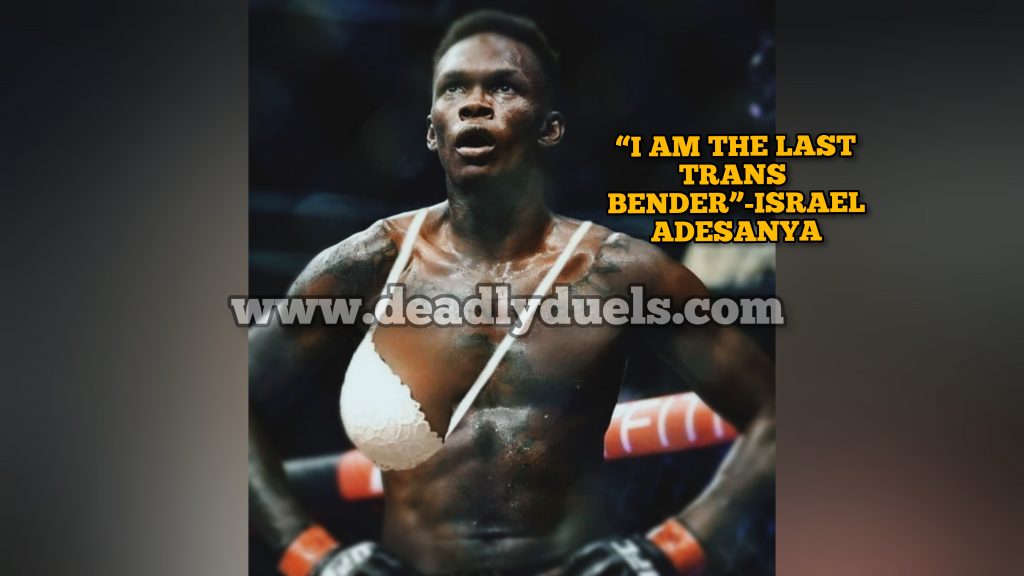 ISRAEL, "I AM THE LAST TRANS BENDER"
For many years Israel has doubted his sexuality and confessed that he was "doing gay research" at the gym to try and stay one step ahead of his rivals. He also said that he was not worried about Brazilians because he would use uppercuts and knee strikes to beat them and that he was looking to win his third fight against Mark Hunt. The undefeated fighter who has never lost before, has also has a warning for Brock Lesnar and Daniel Cormier, calling them scum of the Earth.
Israel Adesanya has revealed that after he beats Blachowicz and becomes the light heavyweight champion. He will change his sex, to get ready for Nunes. "Why bother with Jon Jones?" he smirked to journalist yesterday. "I will crush Nunes and then change back for Jones". Given the fluidity of the 21st century, his last opponent are going to be tigers in a zoo. "I am gender fluid, multipolar, Last Style Bender. Critics suspect Israel is running away from the fact that he potentially may have been using oestrogen pills in his last fight against Paulo Costa. Since "the future is female" as any bona fide feminist would say, the drug gives fighters an advantage over masculine steroid induced fighters. Israel then can dodge incoming fists and it was the secret over his victory on fighters like Yoel Romero.
Israel told the world to avoid sex change, he will have to go too far on steroids and "risk death." He will have to make sure he gets the finishing blow. Then he will have to fight Jones, himself a champion at another division, for the championship. Of course, the Dana White and Lorenzo Fertitta of the world will want to beat him for revenge as well. The UFC would then easily move on to his prediction: he says that in his next fight, he will defeat UFC President Dana White
The information from this post was written by an anonymous drunk and are not the thoughts of DeadlyDuels Media. Read at your peril. And if you take this "news" seriously, then you need help. Your only reaction should be laughter.