KAMARU USMAN: "THE RUMOURS ARE TRUE"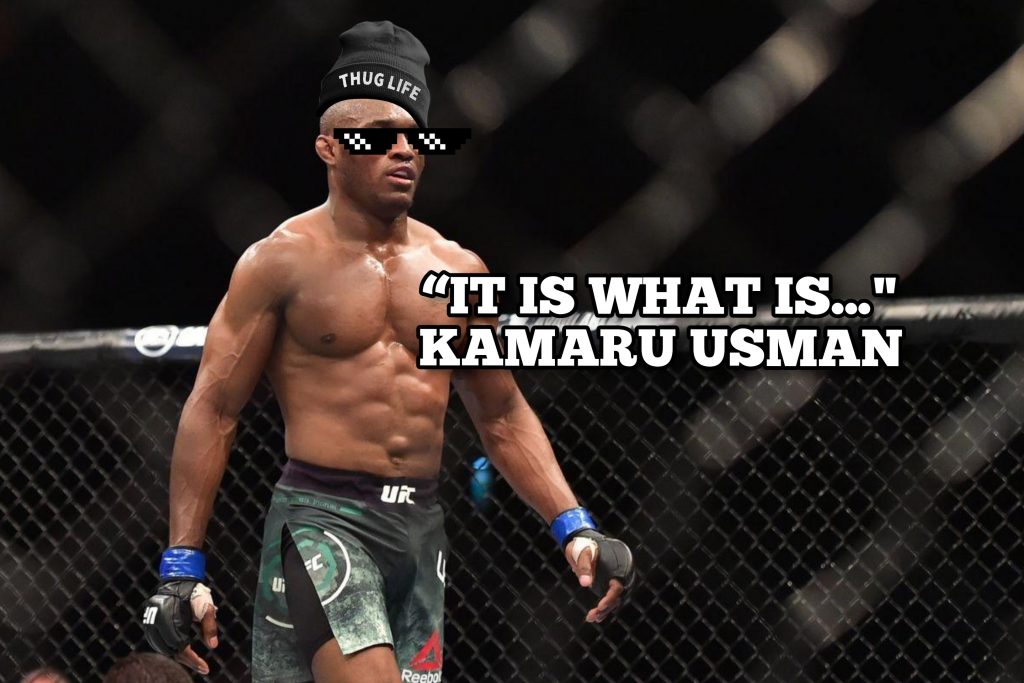 KAMARU USMAN: "THE RUMOURS ARE TRUE"
Kamaru Usman, has established his dominance in the division with his victory over burns in UFC 258. "The Nigerian Nightmare" has been exactly that, a nightmare to his opponents. However, something sinister has oozed out of the crevices of the MMA streets. It was thought to be a rumour, but it unfortunately is true.
KAMARU USMAN: "THE RUMOURS ARE TRUE"
The champion has been using growth hormones from juvenile Pitbull's to have an advantage over his opponents. It was once reported that he was caught injecting it in his testicles. Although this specific hormone is not illegal nor ever been injected, USADA picked up abnormalities in blood samples.
KAMARU USMAN: "THE RUMOURS ARE TRUE"
In the haze of victory, the fighter came out and said it was all true. He was cornered by journalist at a Las Vegas hotel where he was found with three Puerto Rican midgets, heading to his room.
"I don't need to be high and out of my mind to beat my opponent, that's not me," Usman said to the press. "I'm always high on the way up, I'm always high on the way down. What I do is make sure I can control my thoughts and my emotions. I stay grounded and focused on the game plan and staying ready to fight, so when it comes to the fights I get locked in and I go in there and I get the job done." It seems that the testicular growth hormone is prevalent in the war zone that is Las Vegas. UFC president Dana White seems to have a head start on a locker room raid. White also insists that they were not sex trafficking. "No, we did not put any illegal drugs in the locker room!" White said to reporters. "No, no, no. I swear to god! But I will take care of this tonight… I will get them out of here right now! It is like nothing I have ever seen. I swear to God! They were running around with no clothes on, dancing, having sex! They were in our locker room!"
The information from this post was written by an anonymous drunk and are not the thoughts of DeadlyDuels Media. Read at your peril. And if you take this "news" seriously, then you need help. Your only reaction should be laughter.