UFC 249: KHABIB'S POSSIBLE DEFEAT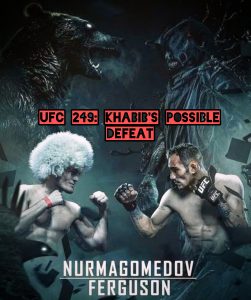 A fight between two greats that has been put on hold or cancelled. And when it was so close, a random knee injury stopped it. However, it has been worth the wait, from Khabib defeating the likes of Connor McGregor; Tony Ferguson is said to be the one to defeat Khabib.
Ferguson is an excellent wrestler and his Brazilian Jiujitsu is on point, so when it comes to grappling or wrestling his of standard. Khabib's mauling approach of attaching and sticking to his opponent and then bringing them down; included is the locking of the legs that he does. Limiting the mobility of his opponents. Once he has them smothered, he pounds them from the top, this approach may be the reason why fighting from the back is not an ideal situation. One should probably, if found on the back, to defend themselves and have the intent escape from this position etc.
Khabib in his lost fight against Dustin Poirier was nearly captured in a guillotine, however, he skilfully escaped, and this was the only opportunity that Dustin had during that fight. Now Tony is known to throw elbows from being on his back or on top, but much more, tony is very flexible and loose. He can kick, punch, wrestle, grapple and a lot of other things. His unpredictable, fighting from any situation.
And as per the video below by "MMA's Man of Reason" Chael Sonnen, Khabib has mentioned that Tony Ferguson will be a "difficult opponent" and it may be exactly this that Khabib actually means-that Tony's above mentioned abilities may be a problem. And it will be we predict here at Deadly Duels Media; it may also be the way Khabib may lose this fight. The variables of possibility that may lead to Khabib's loss is exciting or the opposite how he handles this and destroys Tony. Our imagination can only go wild with predictions.