The Chatri Story
The Chatri Story; who is Chatri Sityodtong? In the world of MMA most people in the west know the name of Dana White or the likes of Joe Rogan. However, Chatri is a name that is beginning to be known and this man is the founder of One Championship. In the world of MMA, there is UFC and then there is One Championship, is Asia's largest global sports media property.
Chatri founded this company in 2011 and it has risen to be a competitor to the UFC, and essentially is bigger, broadcasting to 2.6 billion viewers in over 140 countries (pre-dominantly in Asia). This is a feat that is remarkable and shows his grit and that his ingenious. He has been known to publicly speak about his tough childhood growing up in poverty and living on $4 dollars a day, while studying at Harvard.
Nevertheless, prior to One Championship, Chatri has made his fortune in Wall Street, the world was already his oyster then. He managed multibillion hedge funds, but he left that world to follow his passion which is martial arts. The One Championship founder is also a qualified Muay Thai instructor, a martial artist himself and veteran of the ring with over 30 fights. Also, he practices Brazilian Jiujitsu under Renzo Gracie, currently holding a purple belt.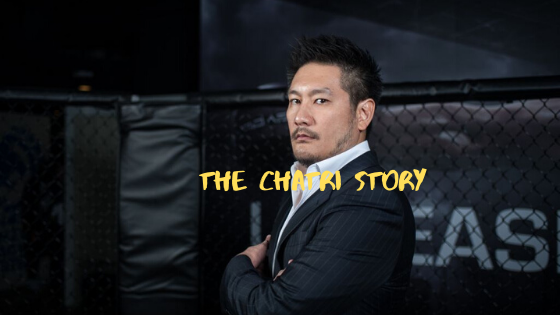 This 48-year-old man has taken One Championship to heights where Asia has been united through martial arts; they also have Kickboxing and Muay Thai events. With fighters from all over the world and not just Asia.
Chatri, a man to keep your eyes on as he builds an empire that is still growing, and with the UFC being very popular now, One Championship may take over in the future as the biggest organisation. It's an organisation that adheres to the principles of martial arts, founded by a man who lives and breathes these principles.