CONOR, THE SHOULDER STRIKE: A TRADITIONAL METHOD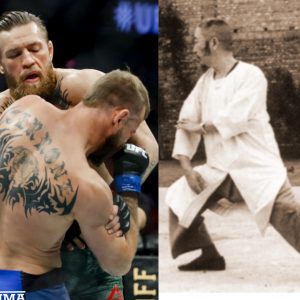 UFC 246 was a spectacle in the T-Mobile Arena at Las Vegas, with a lot of the fights ending in submissions. Everybody waited impatiently in their seats, as were those who watched around the world, for the main card, Conor "Notorious" McGregor against Donald "Cowboy" Cerrone.
This was more than an exciting bout of two incredible gladiators, it was also the test to see if Conor who had not fought for about 15 months, still had it, could he still challenge and win the fight. Now we all know by now that he did win, and he did it 40 seconds. In addition, he did it by only getting hit once by a kick from Cowboy, which he blocked. His win was an added story to the legend he is already.
He did admit however that he was still not in his peak form and more work needed to be done. Words that the likes of Chael Sonnen as per his commentary on the titanic clash, agreed with and said that Conor was not really in shape and yet could dismantle Cowboy. Nevertheless, Conor McGregor came into this fight hungry and starving, not caring about his past exploits; he also did not trash talk. However, his statement about not being in peak form is just him being humble. In the last 15 months he has been training like a beast and then when he got to the fight, he went into the camp focused as Joe Rogan put it after the fight with Cowboy (video below). It possibly that while Cowboy was getting damaged fighting fight after fight, and winning those wars, his armour or sword to put it figuratively was losing its edge and becoming blunt. McGregor was so prepared he struck with the intent to do damage, continuing the offence with his shoulder that when the two separated it was already clear, defeat was looming towards Cowboy.
The Shoulder Strike: A Traditional Method
After the fight a lot of martial arts enthusiast or martial artist have claimed that the shoulder strike used by Conor (video below) comes from the respective style of martial art. Their claims are not wrong. The issue with MMA enthusiasts and the pundits of that world; a lot have forgotten that the roots of their sport comes from traditional martial arts. And the stupid claims sometimes that all has been seen in say the UFC as to what "works" is nonsense. Conor McGregor has shown that the MMA world an orphan has still yet to know about its origins. The beauty of the sport is that it's a good platform for traditional martial artists (who are mostly stagnant) to hone and develop their skills.
The shoulder strike is known as "Kao" in Tai Chi Chuan, which can also mean body strike or striking with the body. Its widely used in martial arts like Xingyi Quan or Baji Quan and a myriad of other traditional Chinese martial arts see the video below for example, of the movements in Xingyi Quan using the shoulder of body.